Our team here at Gabby was thrilled to participate in another episode of "Fix It and Finish It," which aired on January 20, 2015. In this episode, DIY expert Antonio Sabato, Jr and his crew team up with designer Nicki Huggins to take on the unique challenge of converting a garage into a dining room.
Fine dining in the garage? Sounds a little backwards, right? The unusual dream to turn a garage into a dining room is inspired by a new need for additional space. Living space was already limited when they were a family of three. When the exciting news came that the young family would soon welcome a fourth, to say their home would become cramped would be an understatement. It was clear that a renovation to expand their living space was in order. With a second child on the way, homeowners Maggie and Cline wanted more space they could use to gather around the dinner table as a family. With a new, bigger dining room, mealtime can mean quality family-time.
Fortunately, the garage had plenty of space and a great foundation to work from. The curtain covering the shelving niche was replaced with double doors to create a formal dining room closet. The wood panel walls were painted white to create a clean, elegant contemporary feel. A reclaimed wood farm table adds natural beauty and warmth. The dining table is paired with white-painted metal chairs and an industrial-style pendant light fixture.
When it came time to find a stylish and functional storage piece, designer Nicki Huggins chose the Vanessa Cabinet by Gabby. The unique tiered design of the European-inspired curio cabinet features six shelves for ample and accessible storage. The gray and white patina'd finish is complemented by glass panels and decorative aged black ironwork. The cabinet ties the space together while adding interest with texture, antique appeal and a striking silhouette.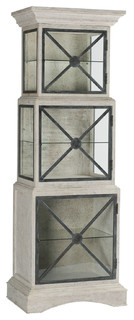 Photo: Gabby via Houzz
The results are simply beautiful! The dining room is fresh but certainly not lacking in character. It's shabby-chic meets contemporary-rustic. Check out the rendering of the garage-turned-chic-dining room in our recent pin on Pinterest.
To see the outdoor space we helped to furnish in a past episode of Fix It and Finish, head over to our previous post on the Mission Bungalow Deck project.
Are you looking to fix and finish your home with a DIY project of your own? Or, are you working with a designer to remodel and update living spaces? Remember that here at Gabby, we offer a wide selection of transitional, antique and eclectic-style furniture and lighting perfect for getting the look and achieving a balance of style and comfort. Shop by category in the Gabby online catalog.